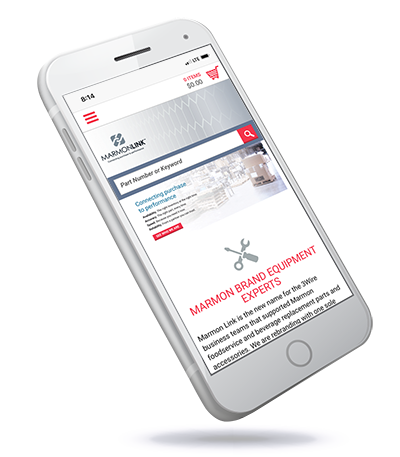 You've browsed the site, you've ordered parts—but what if you're on the go or on the job? Don't worry, we've got you covered.

With Marmon Link's new mobile-friendly layout, ordering parts while you're away from your computer has never been easier. All the ordering and account features available to you on your desktop are now at your fingertips!
EASY NAVIGATION
One click gives you easy access to manufacturers and our new efficiency tools. It's the icon in the upper left of your phone screen.
SORT BY MODEL
Just like on desktop, you now have the ability to filter by model. We've got thousands and thousands of parts, but don't spend all your time browsing through them all. Simply select the model of your equipment and let the site show you all the parts you need.
EFFICIENCY TOOLS
The browsing and account tools available to you on desktop are still the same on mobile. Create parts lists by using the My Parts option to easily view and order parts you commonly need or that are specific to your equipment models. Ordering lots of parts? Save your shopping cart so you can revisit it and checkout quickly. And some parts are able to be subscribed to—simply click on the calendar icon on applicable parts and set up your subscription request.
Give Marmon Link's new site a try on your mobile phone or tablet, and know that it's available wherever you go, whenever you need it. It's one more way we're redefining the industry.