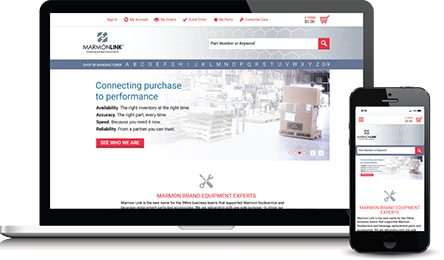 The Same Great Features
With the launch of Marmon Link, the new marmonlink.com site is now focused on making your Marmon Beverage and Foodservice brand equipment parts ordering easier and more efficient. These are just some of the ways in which you'll continue to benefit.
Find Parts Fast with Robust Search
Search for parts by manufacturer, part number, or keyword to find exactly the part you need. Narrow further by manufacturer, by category, or by model number.
Browse for Parts and Manuals by Manufacturer
The Shop by Manufacturer index bar lets you find models, parts and manuals by finding the manufacturer first.
See Everything You Need to Know on Easy-to-Scan Parts Pages
See the part, its manufacturer, relevant part numbers, your price, whether the part is in stock and ready to ship, and how many are left in inventory.
Search and Order from Your Mobile Device
Our fully responsive site lets you take advantage of all site functions and features from your mobile device in one place. It's now much easier to take our tools with you wherever you go!
Set Up Personal Productivity Tools
If you often order the same replacement parts, you can create your own parts lists and save as many as you need to manage your business.
Some parts are available by subscription service for regular replenishment so you never run short.
"My Orders" lets you track your open orders, find saved shopping carts, use the Quick Order feature for extra convenience, and reorder from past transactions
It's all designed to keep you up and running!